The best thing you can do for your exposed ductwork is make it the aesthetic focal point of the room.  Design your ductwork with ProCoat, the industry's best baked-on powder-coated duct.
What is ProCoat and ProCoat Plus?
Linx Industries brings ProCoat™ products to the market as an alternative to PVC, PDS, PCD, and other precoated steel products. ProCoat is a "baked on" powder-coated ductwork system applied to the outer shell of the HVAC air duct system.
ProCoat's primer coat is a zinc-rich epoxy. The polyester topcoat protects the base coat and adds a clean glossy finish.  This coating exhibits superior chemical resistance characteristics over precoated sheet metal alternatives.  ProCoat meets or exceeds the 500-hour salt spray test per ASTM B117-97.
ProCoat Plus uses the same technology as ProCoat but is designed for environments requiring added protection or a chemical resistance system.
The ProCoat Plus coating system is comprised of a Series 69 zinc epoxy primer and a Series 49 polyester/TGIC glossy white topcoat. A total finished film thickness of 4 mils (0.004 inches) inside and four mils (0.004 inches) outside is standard. In addition, ProCoat Plus ductwork can be fabricated using industry-standard welding methods, adding quality while maintaining the aesthetic appearance and corrosion resistance.  ProCoat Plus meets or exceeds the 3,000-hour salt spray test per ASTM B117-97.
ProCoat and ProCoat Plus offer the following special characteristics:
Available in single or double-wall construction
Available in Gasketed or nongasketed connections
Round and oval construction up to 60? diameter
Coating 4 mils
Consistent in color and quality
Ductwork can be fabricated using standard welding methods
Why Should I Use Ductwork as a Design Element?
It's no secret that commercial and industrial buildings need a large HVAC and ductwork system to keep the occupants of a building comfortable and happy.  Rather than hiding your ductwork behind ceiling tiles and closing off the space, consider making it the aesthetic focal point of the room.  Many construction professionals use the industrial feel of spiral ductwork to create a statement piece by incorporating it into the overall design of the space.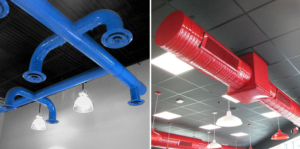 Exposed ductwork is perfect for retail buildings, industrial spaces, offices, hotels, stadiums/arenas, restaurants, and so much more.  It can provide a sense of openness and transparency, allowing occupants to see the inner workings of the building and feel more connected to the space.
With ProCoat, there are many colors to choose from, so whether you choose to highlight or hide your ductwork, your ductwork can either fade into the background or stand out to make it a statement piece.  Fun and functional, you won't regret turning your exposed ductwork into the aesthetic focal point of the room.
ProCoat and ProCoat Plus are offered in standard and custom colors.  Standard colors include black, blue, orange, red, gray, green, and white.  Custom colors can be successfully matched using the RAL color-matching system.

Where Can I Buy ProCoat?
Ready to buy ProCoat? As always, we want you to ask for Linx and are happy to work with you to deliver your desired HVAC products.
Available in various colors, ProCoat can be purchased through over 60 representative locations across the US as part of our selective distribution network.  Use the Linx representative locator map to find a rep near you and place your order today!